Hello friend!
Another newsletter already? Why yes! 
And that means a new video (about fossil fuel interests infiltrating the US education system), which came out earlier today? Yes indeed! 
Things are really moving along nicely around Climate Town. But eagle-eyed readers might notice a change. Something amiss.
A mystery.
That is easily solved! After a lovely two email run with our previous hosting provider, the nice people at Substack welcomed us with open arms. And we have also welcomed them, by moving this newsletter to Substack.
But don't worry, we are still quite possibly the only newsletter in the world willing to put the unsubscribe button this high up in the scroll. If you want out, here's your chance (on Substack, you have to click the button, then find the UNSUBSCRIBE button on your account page):
And for those of you who are sticking with us: last week was back to school week, and this week? We scroll.
Think of the Children!
And think of the children the oil companies did, by spending millions of dollars across a bunch of industry-funded groups to influence the US education system in their favor. 
Worried you don't know anything about that? Well you probably haven't watched our new episode yet. So why not take TWENTY EIGHT MINUTES MY GOD and click on that video link above.
And once you finish that brand new video, scroll on down, friend.
The Pledge of Increased Flag Sales
America is the Land of the Free™.
And to make sure our children don't forget how free it is, we force them to pledge their allegiance to the Republic every single day. And while this tradition does feel a smidge brainwash-y/indoctrinate-y, the history of the United States pledge of allegiance is extremely American. 
In the late 1800s, James Upham (nephew of the publisher) and Francis Bellamy (former minister) were working at a popular magazine for American boys called The Youth's Companion – a magazine which had also recently started selling American flags on the side to earn some extra revenue. Well, after 26,000 schoolhouse flag sales in just a few years, the magazine was starting to get a little hooked on that flag money. 
When sales took a dip in 1891, Upham and Bellamy hatched a plan to move some serious flag. And if the year 1892 sounds familiar, it's probably because it's got three of the numbers from 1492, the year Christopher Columbus sailed the absolute shit out of that ocean blue. 
Upham and Bellamy figured the 400th anniversary of that prolific and completely uncontroversial murderer's journey would be a fantastic opportunity to: 
Juice those flag numbers. 
After lobbying schools across the country to do a "flag salute ceremony" on Columbus Day, Francis Bellamy crafted a fun little chant that would specifically mention the flag thereby making schools feel pretty stupid if they didn't have a physical flag. Cha-ching!
"I pledge Allegiance to my Flag and to the Republic for which it stands, one Nation indivisible, with Liberty and Justice for all."
And just to say it… trash. It doesn't rhyme, it's a pledge for children that contains pretty technical terms like 'Republic' and 'Allegiance', it's not terribly inspirational, 3/10, see me after class.
But what the pledge lacked in quality, it made up for in quantity, selling a catastrophic number of flags and forever dooming our nation's youths to taking an oath of obedience before cracking into To Kill A Mockingbird.
But wait there's more!
The original salute was not the famous hand-over-heart salute, but it was a different famous salute. That's right. 
Ask yourself what the other famous salute was, and then say quietly, "come on, there's no way the original salute to the American flag was that salute." Well, I regret to inform you that it was that salute, and if you want to see a whole bunch of American kids doing that salute to the American flag, go ahead and click on this link or this link. Not coincidentally, America officially changed the salute in 1942 (a little too late, if you ask us) to the classic hand-over-heart.
And you better believe that wasn't the only change made to the pledge:
CHANGE: In 1923, we changed the line, "I pledge Allegiance to my Flag" to "I pledge Allegiance to the flag of the United States"

REASON: Officials didn't want new immigrants to accidentally be loyal to their country of origin's flag rather than the U.S. flag.

CHANGE: In 1924, they added 'Of America' to 'United States'.

REASON: To cover immigration from one of those sneaky OTHER groups of united states.

CHANGE: In 1954, "One nation indivisible" became "One nation UNDER GOD, indivisible"

REASON: We were so freaked out about those godless Commies from the Soviet Union that we crammed UNDER GOD into our pledge to differentiate ourselves from our sworn enemies. Who cares if it doesn't really fit into the pledge and kinda sounds like we're saying it under our breath, it's going in the pledge.
But the biggest change of all?
In 1940, a Supreme Court case called Minersville School District v. Gobitis sought to answer the question: can schools force students to say the pledge of allegiance?
And it turns out the court decided (8-1) YES! That's right, the highest court in the land decreed that schools could coerce children into reciting a magazine advertisement. And isn't that what America is all about? 
And now a word from our sponsor: Climate Changemakers
If you've ever taken action after watching one of our episodes, you probably used an Action Playbook from our good friends: Climate Changemakers. They're really good at making them.
And right now: they're running a hot little solar power campaign that helps bring solar projects to disadvantaged communities – sounds pretty great, right? But what can YOU do about it? Well, if you like decarbonization and the democratization of energy resources: take a breezy 20 minutes to help make a positive change in the world using these powerful playbooks.
Seriously, 20 minutes is nothing. We haven't made an episode under 20 minutes in over a year. We keep trying to make them shorter, but we're addicted to context. Help!
Ellen and Her Big Oil Adventure
It's the 1980s and Exxon is having a relatively bad run. Sure they're still raking in money – but they also figured out that climate change is real and happening, and then remembered that their industry is a big part of the problem. Bummer!
Luckily, they turned their frown upside down and… gave a lot of money to Disney to sponsor a fossil fuel themed ride, nestled in the culturally sensitive land of:
EPCOT, formerly known as The Experimental Prototype Community of Tomorrow.
Now before his death in 1966, Walt Disney dreamt of EPCOT as a fully functioning, utopian community, serving as a beacon of the possibilities of the modern city. 
Want a job? Why not work down at the industrial hub? Want a flight? Why not take the high speed rail to the on-site airport. Want a car? Fuck off! This city will be designed for people, not machines (you can hide your car under the city).
And so life would go on perfectly for the 20,000 residents of Disney's own company town. And yes, there would have been a small theme park on the north side of the 27,400 acre property, which in total would have been twice the land area of Manhattan.
"Everything at EPCOT will be dedicated to the happiness of the people who will live, work, and play here."
But Walt Disney passed away just two months after filming the video that outlined his grand plan. His vision for EPCOT was abandoned, and the good folks at Disney Corp (famed CEO Card Walker – yes, Card Walker) decided they'd rather just have a second theme park instead. 
So in 1982, EPCOT, as we know it, opened: the most expensive private construction project in history (at the time), featuring a perplexing mix of monetized homages to a dozen countries, as well as attractions dedicated to the ideas of the future, including:
The Universe of Energy.
That's right, we're back! 
That Exxon sponsorship money you almost forgot about? It was for a "ride" called the Universe of Energy.
Starting in 1982, adults and children alike were strapped in for the oil-loving time of their lives. They watched a film about the beginning of life on earth (and fossil fuels), then rode through a dinosaur diorama, then finished with another film (this one expressly about energy). Awesome!
And because oil tankers are almost never famous for something good: 
One of the films included footage of an oil supertanker called the Exxon Valdez. Disney then had to close the ride and un-include that footage in 1989.
And a half decade after that, they couldn't help but go for the full scale, high budget redesign, including a $2 million animatronic of their new star, one of the biggest names in Ellens:
Ellen DeGeneres.
And Bill Nye, and Jamie Lee Curtis, and Michael Richards (Kramer), and even Alex Trebek. What a cast!
And thanks to a bootleg handycam recording of the full ride that's available on YouTube and you can find it easily but we're not going to link to it here: we were able to experience Ellen's Energy Adventure for ourselves.
Basically, Ellen passes out on the couch and has a nightmare where she doesn't know a lot about oil. Luckily, her neighbor Bill Nye is obsessed with energy, and takes her on an educational tour. First, they travel back in time to the dinosaur diorama, before coming back to the present to explore all the modern forms of energy.
To be fair, Ellen and Bill do explore solar (expensive), wind (doesn't always blow), and hydro (already built on the best sites). But then Bill gets to the serious stuff: fossil fuels.
Coal (two centuries worth), gas (sixty years and we're finding more), and oil (fifty years and there's more in the ocean and maybe some in space too). Radical!
Ellen: "What about global warming?"

Bill: "It's a hot topic with lots of questions. It's one of the main reasons scientists are working on ways to burn fuels like coal more efficiently than ever."
And for the grand finale, Final Jeopardy:
"This is the one source of power that will never run out."

"What is brain power?"
Really, really awesome.
But after two decades in its final incarnation, Ellen's Energy Adventure officially closed in 2017, apparently due to declining popularity. And also they wanted to smash a new Guardians of the Galaxy ride in there. Wow, maybe fun really can be profitable.
Chart Town: a Really Misleading Graph
When you look at it that way (the graph right above this), maybe things really aren't so bad. Current CO2 concentrations are fully within the normal historical range, right around the higher end of 280 PPM.
But, unfortunately, looking at it this way means you're getting your information from The Kid's Guide to the Truth About Climate Change, a recent addition to the child indoctrination genre, brought to you by former Governor Mike Huckabee. 
And you better believe this book absolutely doesn't care what year it actually is. Because it turns out that "present day" in the chart above refers to roughly 391 BC, back when cell phones looked like this.
Fast forward roughly 2,400 years, and you have this more current chart:
Damn that's a nasty looking CO2 spike on the right. But from what?
At the moment, our CO2 concentration is over 400 PPM, according to data from NASA and NOAA. And if you think that's bad, you're not alone.
Of course, there are a ton more examples of this kind of misinformation in US schools. And goddamnit we tried to cover them all ourselves. But now that we're on Substack, we don't have to – because we have the great pleasure of being on the same website as some incredibly talented and smart writers, who also happen to be covering these exact issues:
Subscribe!
Billboard Town: Another Good Idea From the Heartland Institute
There it is. The billboard that somehow hurt the Heartland Institute's reputation more than when they spent decades blasting out misinformation about tobacco and climate change.
The backlash at the time (2012) was so swift and unanimous that Heartland actually apologized and pulled the other planned billboards in the series, which supposedly would have featured Charles Manson, John Wayne Gacy, and Osama Bin Laden. But even this amount of discussion about Heartland is probably too much. They seem to be mostly interested in drawing attention as much as anything, so really: that's enough.
But here's something else that's related: remember the part in our video when we showed Ted Cruz repeating a really common (and really debunked) climate denial claim? Now you can watch a couple videos where other people explain why he's wrong: like this one or this one.
Memory Town: Rollie Didn't Score a Single Point as the Starting Point Guard of His Middle School Basketball Team
Frosted tips and the ability to cross yourself up? Watch out ladies, he's also under five feet tall.
And yeah we have a couple more photos: one where Rollie doesn't come up to the shoulder of the other team's #21, and another where it looks like Rollie's own teammate is trying to block his shot. But at least he had fun (no he didn't).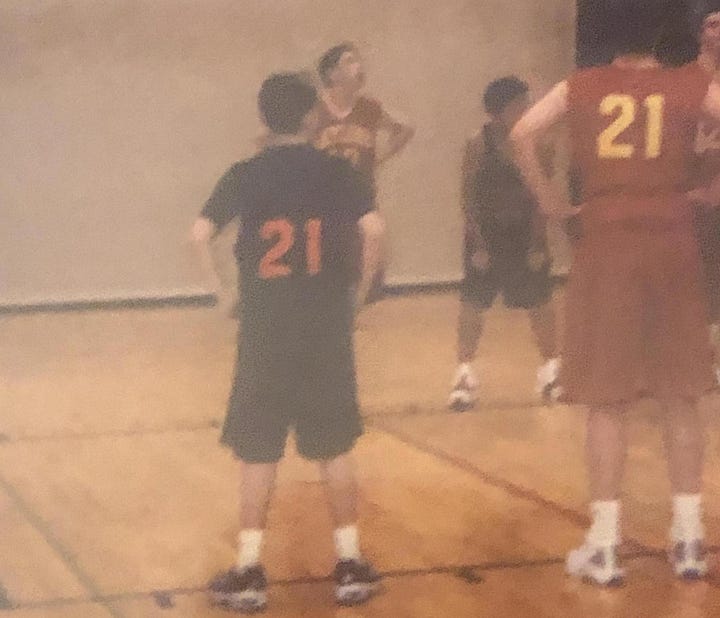 Lightning Round (You're So Close, We Swear)
Point Zero One Percent. That's the "difference it would make in terms of global warming" if "the United States shut down all fossil fuel usage tomorrow" – at least according to a representative from Arkansas Energy Rocks (an education initiative of an Arkansas oil & gas industry group), when speaking to a class of seventh graders in an Arkansas middle school. 
0.01%.
Of course, that's really not even close. The "difference it would make in terms of global warming" is a little vague, but no matter how you slice it, the US is obviously contributing to more than 1/10,000th of anthropogenic climate change.
And we only know about all this because journalist Katie Worth happened to be sitting in this classroom, recording the presentation, while researching her book Miseducation: How Climate Change is Taught in America. Check it out!
Dallas Cowboys x OERB. When they're not working away on jump rope rhymes such as "we need oil, we need gas, where are the oil products in our class," the Oklahoma Energy Resources Boards focus on oil well site rehabilitation and safety.
And for the safety side of things, the OERB created a commercial called Play It Smart in the 1990s. The thinking seemed to be: draw the kids in with TWO FULL MINUTES of football highlights, then WHAM smash them with the cold reality that they could die if they go near an oil well.
It's one of the all time great oil industry ads we've come across, and we'd love to share it with you today, for free: click this link to check it out for yourself!
Official Rollie (no prize). After we found only a single Official Rollie (no prize) in our first newsletter, Rollie felt unique and egotistical. But our most recent call yielded a record-breaking 36 Official Rollies (no prizes). Rollie was devastated.
So this time things will be more difficult. 
In our research for this episode, we discovered that the American Petroleum Institute themselves funded and created a short film called Fuel-Less. It's a Clueless parody, except instead of anything remotely related to the plot of Clueless, Fuel-Less tells the story of a rich young woman who doesn't love oil as much as she should. Or so we think. We searched, but couldn't find a copy anywhere online. So this time: 
Send us a copy of the full Fuel-Less film, and you may be declared an Official Rollie (no prize).
And, of course, here are those 36 Official Rollie (no prize) names:
Amelia Fernández Rodríguez

Ben Roth

Botond Makai

Brian Penkrot

Carson Brill

Chelsea Payton

Chris Rudkowski

Clayton Manley

Clayton Summers

Darrien Glasser

Derek Nelson

Eonoire [Redacted]

Felipe Souza

Gordon Phoon

Isaac Birch

Jack Johnson

Jack Okada

Jeremy C.

Joey Knapp

John Orr

John Shulters

Joshua Miller

Kevin Ellis

Krishana [Redacted]

Marty Hoefkes

Matty B.

Mike Roller

Mitch Armstrong

Molly Elliott

Nick Sorauf

Robbie Grieco

Rowan Price

Sam B.

Thomas Zambiasi

William Lentjes

Zack Youngren
---
Well that's the end of the newsletter. If you want to send in a question, all you have to do is respond to this email. Or contact us directly at newsletter@climatetown.tv. We may never answer it, but you never know.
Also, if you think you found a mistake, let us know. We try our very best to research and review our way to full accuracy, but it's a big world out there.
Art by: Kelsey Bravender
Edited by: Caroline Schaper
Legal support from: The Civil Liberties Defense Center
Executive produced by: Rollie Williams, Ben Boult, Nicole Conlan, and Matt Nelsen